's-Hertogenbosch is located in the southern part of the Netherlands and is one of the oldest cities of the country as well as the capital of the province of North Brabant. Literally meaning "Duke's forest", it's a green city surrounded by nature, where access to physical activity is rather simple, as the municipality has worked to be able to offer an active lifestyle to its 140 000 inhabitants. It is a touristic, attractive and welcoming city for bike enthusiasts.
Transport
---
's-Hertogenbosch's main "Active City" asset is the successful biking policy they implemented 10 years ago. Awarded in 2011 as the best biking city of the Netherlands, 's-Hertogenbosch's inhabitants have really embraced the active transportation lifestyle. In order to reduce the freight of 25% within the city centre by 2025 and reduce the carbon emission to be carbon-neutral by 2050, as well as making cycling the best means of transportation, both a SULP (Sustainable Urban Logistic Plan) and a SUMP (Sustainable Urban Mobility Plan) were developed to set priorities and implement significant changes in the urban traffic. Besides of urban modifications, the city also started a "Lekker Fietsen" campaign in 2009 to promote biking in 's_Hertogenbosch and thus, increased bike commutes from 33 to 44%.
During the past years, the city has worked to make car transportation tough and biking simple, so everyone would rather ride their bike and be active on a daily basis. The bike lanes are well developed and for the overall network to be fully efficient, bike routes have been extended and the existing ones renovated, as the whole logistic plan has been conceived to bike more safely. New bike paths including a bike bridge in 2014 and even a bike fast-cycle route to reach the city next door, made their appearance in the city showing the municipality's commitment to see more and more people using bikes and being active. Indeed, inside the city 's-Hertogenbosch has prioritized roundabouts over traffic lights to relieve congestion and bike lanes are separated from the road which means their paths rarely crosses, and when they do, cyclists still have the priority. Where traffic lights are still necessary, they have installed intelligent and interactive traffic lights to be sure that cyclists will respect them. Moreover, the city has grown a cyclist friendly parking policy and added free guarded parking slots around the city while they have reduced parking solutions for cars.
All these measures have been conceived jointly with the inhabitants through consultation which explains their compliance to the changes and the positive results on the number of cyclists in the city.
Leisure
---
In order to create enjoyable spaces, 's-Hertogenbosch's city centre has been freed of polluting vehicles. The objective described in the SULP was to create Low emission zones. On one hand, these type of spaces allow the inhabitants and passers-by to enjoy the numerous shops with no air or sound pollution, except maybe some bike bells ringing, on the other, it contributes to protecting the environment from gas emissions. Due to the fact that 's-Hertogenbosch is one of the oldest cities of the Netherlands, it has a strong heritage and enjoys rivers and many green spaces and rivers in and around the city which offers many opportunities to be physically active in a great environment.
Moreover, as the city's policy toward sport is to truly be a biking city, they started a "Fietsmaatjes" (bicycle buddy) service. Since cycling isn't always an accessible activity to all, , and in sight of making it more inclusive and allow all inhabitants to take a ride around 's-Hertogenbosch, they created a service that connects people who can't ride alone because of their health condition with volunteers, to foster physical activity and contribute to keep elders socialized. Once they're connected, they can ride a 'duo bike' that's equipped to facilitate the exercise and thus, promote intergenerational sport and active transportation for everyone.
Education
---
Being physically active from te youngest age is the best way to remain fit and healthy throughout a lifetime. To encourage this way of life, the municipality has started different campaigns to promote sport and physical activity as well as healthy lifestyles for children. First, they took part in a national communication campaign " Sjors Sportieft" that promotes both physical activity and cultural education for children around the country.
Then, the municipality involved sport stakeholders towards children by giving them the opportunity to try activities in order to build bridges between school and sport clubs. By doing so, they'll set an active behaviour in the child's life that he'll keep for the rest of his life.
Finally, aside from physical activity incentives, 's-Hertogenbosch is also involved in the promotion of healthy lifestyle through a "Healthy together" campaign to have everyone educated on the topic, or through different programmes running in the city against obesity for children such as CooL (local) of LEFF (national).
Sport at workplaces
---
As Active City, 's-Hertogenbosch enables its labour force to cycle daily to work as means of commuting.. Moreover, the municipality has created a service that is in charge of putting in relation and establish collaboration between sports organisations and companies that want to bring sport into their work environments.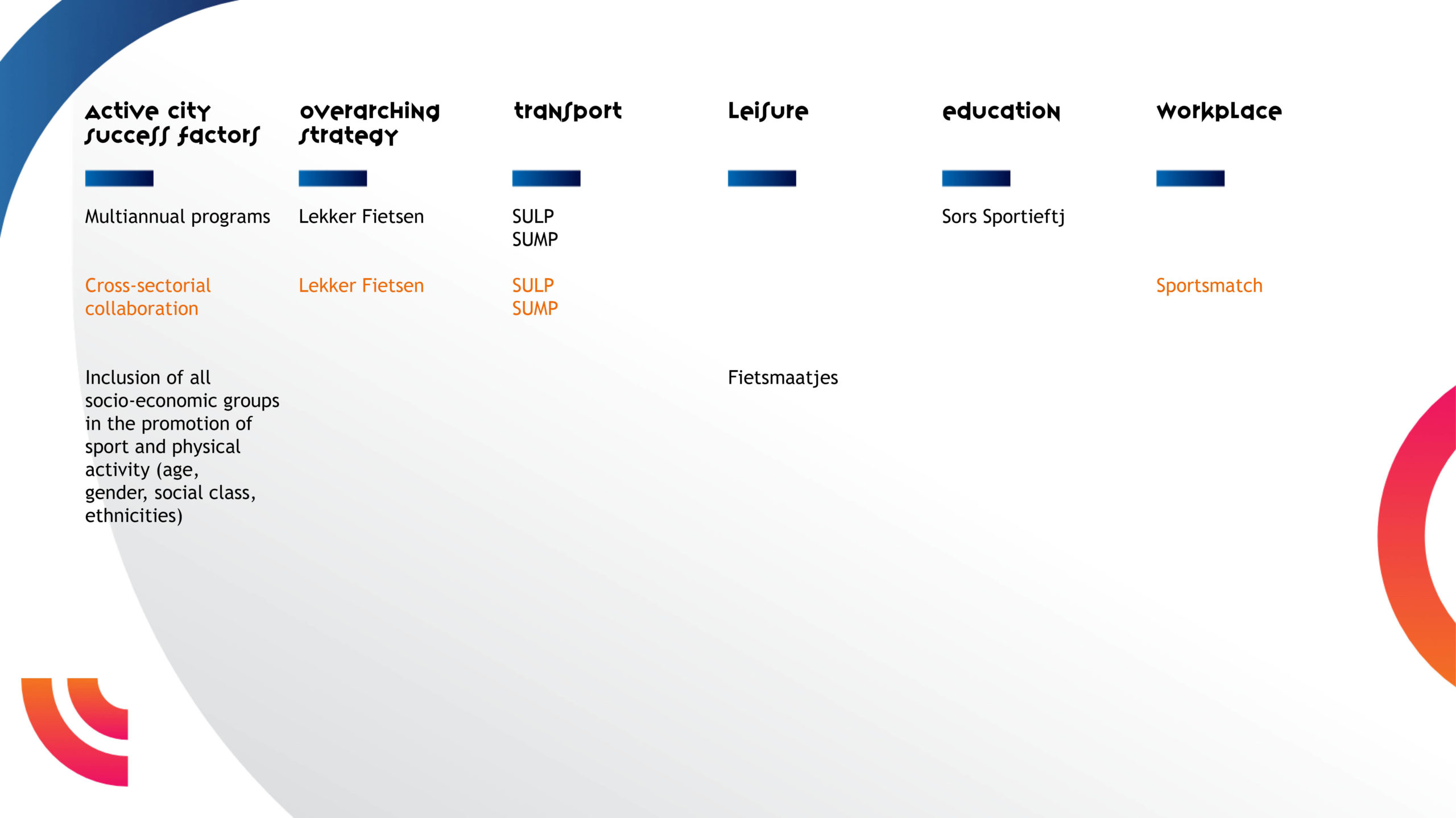 Translate »