LAHTI
---
In the seventies, the city of Lahti and its surroundings were very polluted due to rapid growth and urbanisation. Then, the 120 000 inhabitant city started a huge conversion to become more sustainable and its efforts have recently been rewarded with the European Green Capital award.

---
Alongside this environmental policy, initiatives have offered Lathi's inhabitants a lot of opportunities to be active in their everyday life. Today, the city emphasises its efforts to reach its sustainable goals as well as insuring suitable conditions to promote physical activity in the city, especially through the development of active modes of transportation.
TRANSPORT
---
To reach its climate goal of becoming carbon neutral by 2025, the city of Lahti has developed smart and sustainable solutions for mobility, which makes it a pioneer in the matter.
Lahti is one of Finland's top cycling cities. Over the past decade cycling has become increasingly popular, which makes Lahti one of Finland's top cycling cities. The city has a strong bicycle strategy, determined with inhabitant's participation thanks to a survey conducted in 2016. Respondents consider the development of cycling as positive and good for health effects, but further wish for segregated cycling paths. The survey responses helped the city adopt its Development Plan for Walking and Cycling which targets 20% of cycling in the modal split in 2030 (9% in 2016). A network of bicycle "highways" and main cycling routes is being planned from the surrounding districts into the city centre, with local connections between districts.
As part of its effort to promote cycling and walking, the city has built traffic-free cycling and pedestrian routes, developed seamless journeys, and created a safe and pleasant travel environment. A sheltered bicycle parking station for 200 bikes has been built in the city centre. There is also a bike maintenance point and a bicycle pump for public use. Lahti's Transport Planning Unit received recognition for its work to promote walking and cycling, when it was granted an award by the national Fit for Life Programme. The share of journeys taken by car within the city is seeing a steady decline, whereas walking and cycling are increasing in popularity.
The city has received funding from the EU's Urban Innovative Actions initiative to develop the CitiCAP project. Until the end of 2020, the project will focus on co-creating and implementing a Personal Carbon Trading (PCT) scheme for mobility to reduce traffic emissions in Lahti by encouraging a shift to sustainable mobility. Every city resident can download a free mobile app that automatically tracks the means of transport used. Data collected is also useful for designing the bicycle route network in the city. With the app, users can see their personal carbon footprint from transport and how it evolves as they change habits. Use of sustainable modes of transportation are rewarded with virtual coins that can be used to buy bus or swimming pool tickets, or pedestrian reflectors for example.
LEISURE
---
In addition to these initiatives, Lahti has also taken measures to increase everyday physical activity and improve well-being among its residents. In its Strategy for 2030, the city seeks to strengthen the sport offer in Lahti, and to improve the accessibility of recreational areas. In Lahti, 99% of people live within 300 metres of green urban areas. The city enables its inhabitants to enjoy nature in many different ways, offering leisure activities such as skiing. Every year, the Physical Activity Month encourages people of different ages to exercise as much as possible and become acquainted with different sport opportunities.
In Lahti, there are about 150 sport infrastructure controlled by the City of Lahti Sports Services which count 2.3 million visits per year. In summer, the outdoor pool offers swimming lessons for children and instructor-led water fitness classes. An entrance ticket allows visitors access to both instructor-led water fitness classes during the pool's opening hours and the gym at the ski-jump stadium.
Another European project, Go Green Routes, founded by the Horizon 2020 programme aims to develop an accessible nature trail combining the environment with sustainable physical activity.
EDUCATION
---
In 2017, Lahti hosted the 40th FIS Nordic World Ski Championships and developed one of the most advanced training programmes for 3,163 volunteers as well as a schools programme with over 15,000 children from 29 participating schools. The event was recognized for generating a wide range of benefits for Lahti and the whole of Finland.
Lathi's goal is to create a permanent programme for sustainable exercising which would cover a learning path from early childhood education to upper secondary school. This means designing a pleasant school yard and safe school surroundings, and teaching cycling in schools.
Actions are planned and implemented in co-operation with the city's departments for basic education, landscaping, environmental counselling, land use planning, traffic planning and sport services. With the help of the co-operation network, children and youngsters are offered genuine possibilities to participate and influence in city planning.
The city also aims to establish a culture of physical activity in Lahti's basic education thanks to the Basic Physical Education Program. To draw up the programme, primary schools have participated in the implementation of the Mobile School programme in 2018 and 2019. It helped establish Mobile school operating models, structures and guidance to promote physical activity and mobility. The Lahti Basic Physical Education Program outlines the most important goals and measures to promote physical activity at school. According to a report published in 2019, the children and young people who have achieved the physical activity recommendation levels are mostly in schools that are active in promoting physical activity.
WORKPLACE
---
The Lahti Region is famous for its Health-Enhancing Physical Activities strategy, which means that the facilities in the city and its surroundings are designed to meet the sport requirements of all residents. In the Lahti City Sports Physical Activity Operational Program, one of the main objectives is to reduce daily sitting in the course of life, which is one of the working world's main issues nowadays. The city encourages everyday practice to tackle sedentary lifestyles such as talking on the phone while standing, using the stairs, taking active breaks. The city also promotes active commuting and business trips thanks to its mobility plan.
Some organisations are really involved in promoting both sustainability and physical activity in the city. In 2015, the Lahti Symphony Orchestra initiated a project to gradually make the orchestra's activities carbon neutral. The Orchestra organises a carbon neutral cycling event, to which it also invites other companies and people from Lahti.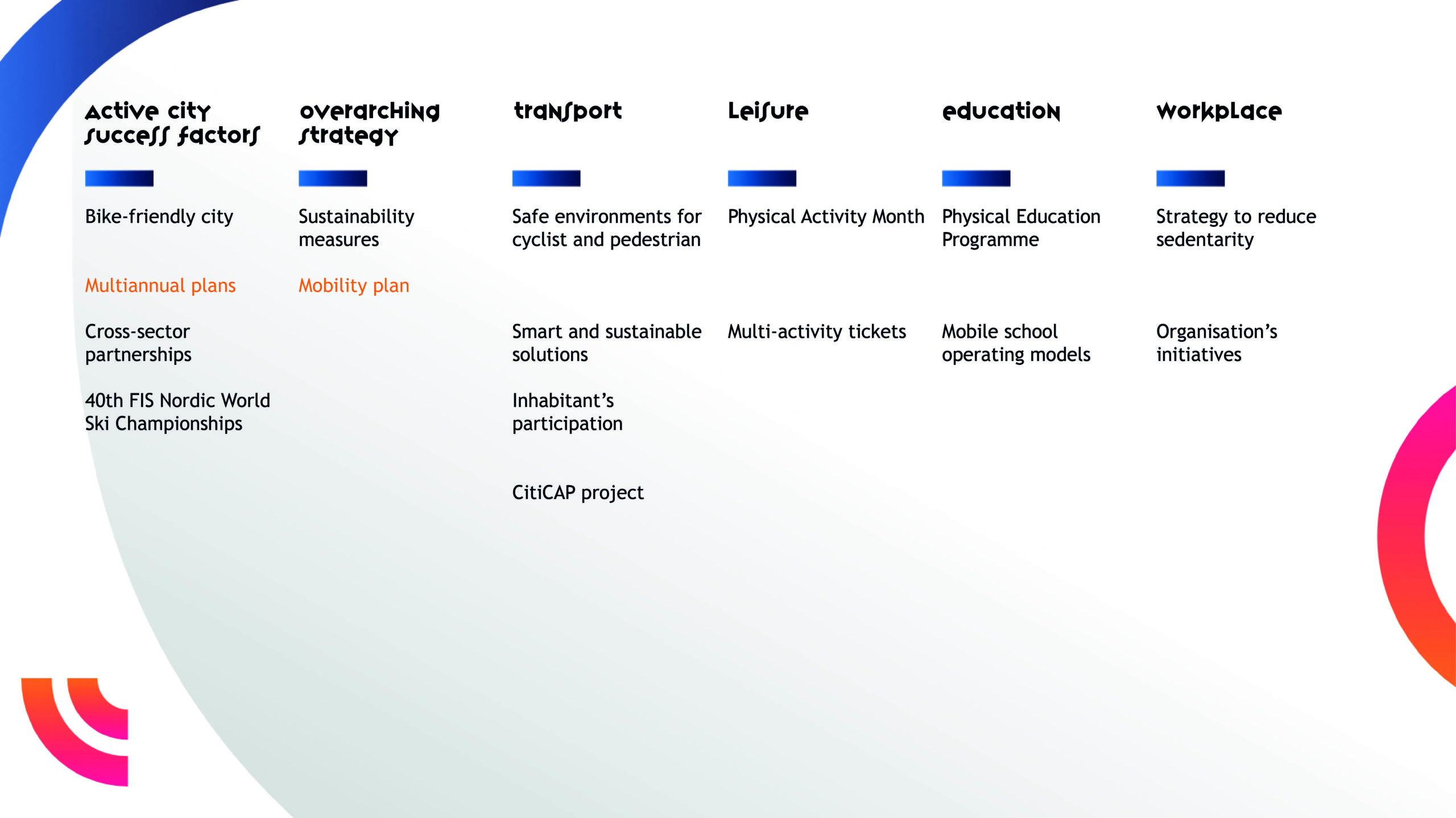 Translate »